Matinsa participates in the II International Conference on Operation and Safety in road tunnels and in the VIII National Symposium on Tunnels
27/10/2022
Matinsa participates in the II International Conference on Operation and Safety in road tunnels and in the VIII National Symposium on Tunnels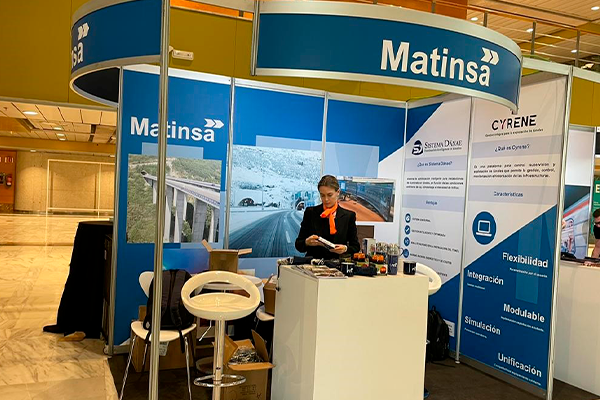 Matinsa has sponsored and participated in the II International Conference on Operation and Safety in road tunnels and in the VIII National Symposium on Tunnels, held in Granada and organized by the Spanish Road Association and PIARC.
This joint event has brought together more than 1,000 road tunnel professionals from around the world, generating a global debate about them. Faced with the new challenges of climate change, a sustainable economy and in the framework of COVID-19, it makes sense to talk about resilient infrastructures, a concept also applicable to tunnels. In this way, the tunnels must present high availability rates with an acceptable level of safety even under circumstances that involve significant alterations in normal operation, establishing measures to reduce impacts. This, moreover, will imply redefining design and management standards and integrating the concept of resilience into the life cycle. On the other hand, the road transport sector is experiencing a technological revolution with the challenges of digital transformation. Phenomena such as the autonomous vehicle, shared vehicles, digital mobility platforms, electrification and new vehicle propulsion energies are realities on which we must now work due to their direct relationship in the way tunnels are managed and operated . ITS systems and their continuous development also have a lot to say about all these issues. Other important issues are the management of large urban tunnels, as well as, in general, the ventilation and lighting of tunnels and their constant progress.
Matinsa was able to present aspects such as its capacity to manage high-traffic urban tunnels and its impact on improving the operation, maintenance and traffic management of this type of infrastructure at the congress. His contribution as a service company to the improvement of exploitation through the application of new technologies that in turn allow an improvement in security. The energy efficiency measures implemented in the tunnels managed by the company, as well as the management of emergencies.