21/05/2018
Matinsa wins the XIV National Acex Award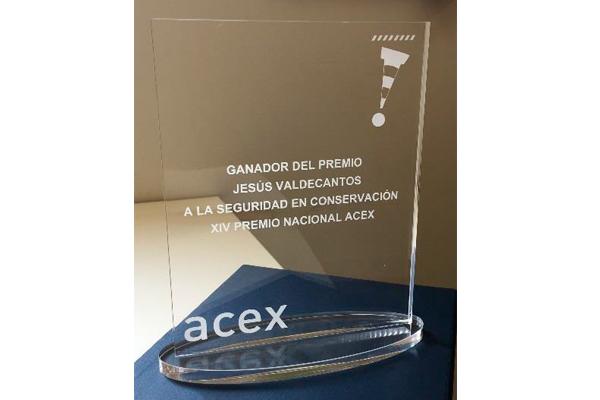 Last May 8th, the XIV National Acex Award for Road Maintenance Safety was delivered in Agustin de Bethancourt conference room at the National College of Spanish Civil Engineers in Madrid.
This event was presided over by the General Director of Roads from the Public Works Ministry Mr. Jorge Urrecho Corrales, accompanied by the General Director of Traffic Managing, Mr. Gregorio Serrano and other authorities.
The award in the category of associates was given to the project "Adaptation of a vehicle to install an improved safety system for lane closure´s workers", submitted by Matinsa's Machinery Department, previously mentioned in this web page.
http://a2lray002p:8080/en/web/matinsa/-/matinsa-desarrolla-un-vehiculo-para-la-colocacion-de-senalizacion-provision-1
The award was collected by Mr. Sergio Jiménez Porras, Mr. Enrique Barragán Sevilla and Mr. Alejandro Galán Martín, inventors of the mentioned system.
The jury of experts, composed of representatives of entities related to maintenance infrastructures safety, finally decided to choose our project the winner of the XIV National Acex Award among other 12 submitted projects, all of them seeking different contributions to road maintenance safety.
During the event, one minute of silence was held in memory of Mr. Jose Antonio Nogueira, road maintenance worker from Matinsa, who died that same day in an accident. He leaves a wife an a 19 year-old son. May these words of condolence serve as a heartfelt tribute to his memory.