06/05/2020
MATINSA takes part in the disinfection of the streets of Madrid during COVID 19 crisis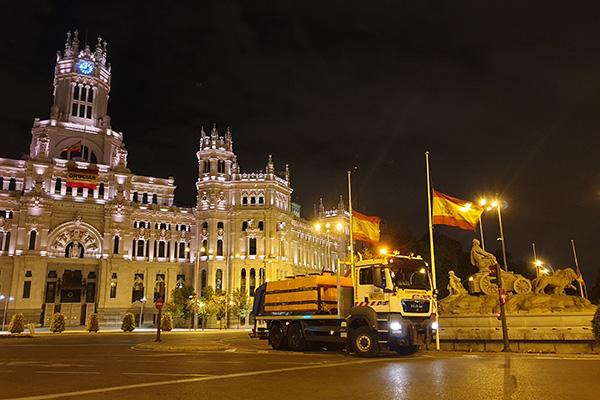 From April 9 to April 30th Matinsa has participated in the disinfection of the streets of the city of Madrid. Specifically, works were carried out in the districts of Tetuán, Centro and Chamberí, treating such emblematic places as Puerta del Sol, Plaza Mayor, Gran Vía, Paseo de los Jerónimos, Royal Palace, etc. Disinfection was done at the request of the Ministry of Transportation, Mobility and Urban Agenda.
Three trucks with brine spreaders adapted for this type of work were used at night time on a daily basis. Overall, trucks have traveled 3.600 km. and 1.120.000 liters of sodium hypochlorite have been spreaded.
Matinsa and its employees, true to their commitment to citizen service, have contributed in this way to improve the hygienic conditions of the streets of Madrid during the COVID 19 crisis.