MATINSA successfully overcomes the consequences, caused by the storm Filomena, on the roads of central Spain
13/01/2021
MATINSA successfully overcomes the consequences, caused by the storm Filomena, on the roads of central Spain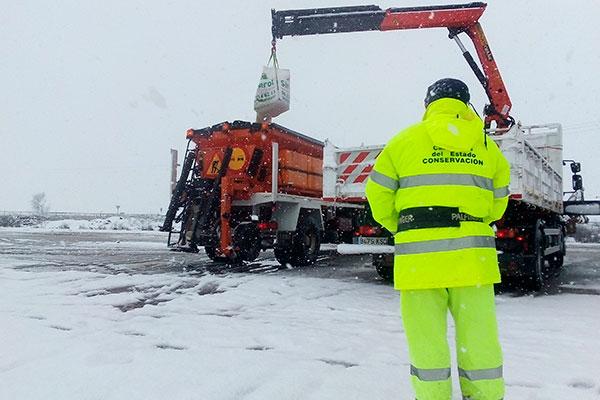 Matinsa successfully overcomes the consequences caused by the storm Filomena, on the roads of central Spain. The storm of cold and snow that has hit Spain in recent days has especially affected the center of the peninsula and its communication axes.
In addition to managing contracts in other areas of Spain, MATINSA is responsible for road maintenance in the three most affected provinces: Albacete, Cuenca and Madrid. In all of them there have been exceptional values ​​of precipitation in the form of snow that have seriously affected the state of the roads. To this has been added the presence of strong winds, the formation of snowdrifts in some areas and the drastic drop in temperatures, reaching -10ºC in most of these roads and even below -18ºC in those of the province of Cuenca .
This episode has put all the human and material resources of the company to the test, whose sole objective was to ensure that the roads were passable at all times and in the best possible conditions, preventing snow from accumulating on the roads as well as preventive action that would prevent the formation of ice sheets. Faced with this challenge, Matinsa prepared all the material and human teams, collected fluxes (salt and brine) and carried out effective coordination with the organizations (Ministry of Transport and Urban Agenda, Civil Guard ...)
As on other occasions, the professionalism of MATINSA's staff has been the primary factor that has allowed us to successfully manage the innumerable problems that have arisen on the roads, working without interruption to achieve their resolution. In addition, MATINSA has reinforced and supported various tasks necessary to regain normalcy and mobility in the city of Madrid, providing personnel, machinery and equipment.
Since the beginning of the storm, more than 100 MATINSA employees have worked in the three aforementioned provinces, 37 snow plows, other auxiliary machines such as loaders and crane trucks have been used and 3,600 tons of salt and 900 tons of brine have been spread in 236 kilometers of highways, 74 kilometers of conventional roads and in various areas of the city of Madrid.
The very low temperatures are still with us and MATINSA continues to be alert to keep the roads in service and in safe conditions.