The Construction area of the FCC Group presents the campaign "Do not regulate it, and say NO" The Construction area of the FCC Group presents the campaign "Do not regulate it, and say NO"
25/11/2019
The Construction area of the FCC Group presents the campaign "Do not regulate it, and say NO" The Construction area of the FCC Group presents the campaign "Do not regulate it, and say NO"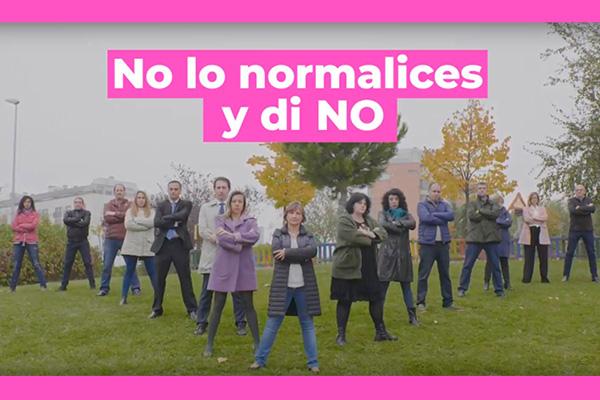 On the occasion of the events carried out on November 25 "against gender violence", the Construction Area of the FCC Group has presented its campaign "Do not regulate it, and say NO".
The figures that we have day by day and week by week are unacceptable and require a step forward to eradicate this social evil, which reduces multiple lives and physically and psychologically damages multiple women.
Unfortunately, we have normalized behaviors, behaviors and attitudes that have become part of our way of communicating and interrelated, and undoubtedly show the need to separate and eliminate this form of behavior.
Under this premise, the construction area of the FCC Group has designed a campaign, in which workers of the company, show how some song lyrics, convey an inappropriate and inappropriate message, in relation to the treatment of gender in the music. Under the slogan "you listen to it, sing it, normalize it" and "Don't normalize it and say NO" we want to debate the need to correct and avoid these micromachisms, present in society and that go unnoticed by simple normalization.
The elimination of the daily life of micromachisms and the eradication of discriminatory gender treatment constitutes a fundamental first step to be achieved, so that joint action can be taken against gender-based violence against women. We are the companies, the workers and the society as a whole who must value these communication and awareness actions, so that in a coordinated way we know how to detect these bad practices and thus eliminate them.
From the Construction area of the FCC Group, we are convinced in the development of this type of actions, in which in addition to demonstrating a clear commitment of the workers, as well as of the company itself, we form a shift lever to transmit the message: do not allow the normalization of this type of behavior.